Same Day Cash With A 24 Hour Title Loan
There are multiple ways to get money for emergency expenses. But one of the quickest and most hassle free options is a 24 hour title loan. With these online title loans, the approval process moves quickly. Apply online and fill out your documents, answer any questions from a loan underwriter, and complete the vehicle inspection. After completing the application and getting approved, you can pick up your cash on that same day. A same day approval is practical and within reach for anyone who needs fast money with a secured loan.
What Do I Need To Get Approved For 24 Hour Title Loans?
Consider some of the general requirements you must meet before getting an online title loan. These may include having a car that is paid or almost paid off, proof of income, and 18 years old.
In addition to those requirements, you will also need valid state identification for Ohio residents and the title to your car. The pink slip will be the most relevant requirement here as that is what a lender uses as collateral for the amount borrowed. In some situations, you may be able to provide a title that's nearly paid off, but this will limit your ability to get a more significant sum of cash, and it's not likely you will complete the loan application in 24 hours or less.
Also, expect employment verification requirements and a work history showing you make a certain amount each month. An underwriter will verify your monthly income with lending applications to ensure you can make the monthly payment. They may still request that for a same day title loan, but your loan amount may be limited, or there may be extra stipulations in the lending contract.
Benefits of 24 Hour Title Loans
There are clear benefits to getting a car title loan in Ohio within one business day or less! One is that you can get your money quickly, often within the same day you apply, and that cash will be wired straight to your bank account. This is ideal for emergency expenses when you need cash fast. In addition, having the chance to access cash in less than one day may not require a vehicle inspection. That can speed up the funding process and lead to more vehicles passing the approval process. Other benefits include no prepayment penalties and a simple online application that only takes a few minutes to complete.
Drawbacks Of A 24 Hour Title Loan
The drawback of a title loan is the interest rates, which tend to be slightly higher than traditional car title loans. The finance rates with any bad credit loan are higher than an unsecured bank loan.
Fast funding title loans can be a great option when you need cash quickly for emergency expenses. Make sure you meet the general requirements and have all the required documents ready to get your money fast.
24 Hour Title Loans With Bad Credit – Is It Possible?
Bad credit does not need to stop you from getting a 24 hour car title loan. The fact of the matter is that a significant amount of applicants applying in 24 hours have bad credit and they would apply for other low interest same day loans if they had manageable credit. Lenders know this, and most won't verify your credit for title loans without a credit check.
Ensure you provide all the required documents and meet the other general requirements. This will help speed up the process and increase your chances of getting approved for fast funding with low credit scores.
So, if you need extra cash and have a car that is paid off or almost paid off, a bad credit title loan may be an excellent option. Make sure you meet the general requirements to save time and hassle when applying for an online loan in 24 hours. Get started on your application from our website or contact GoTitleLend today to see how much money you can get!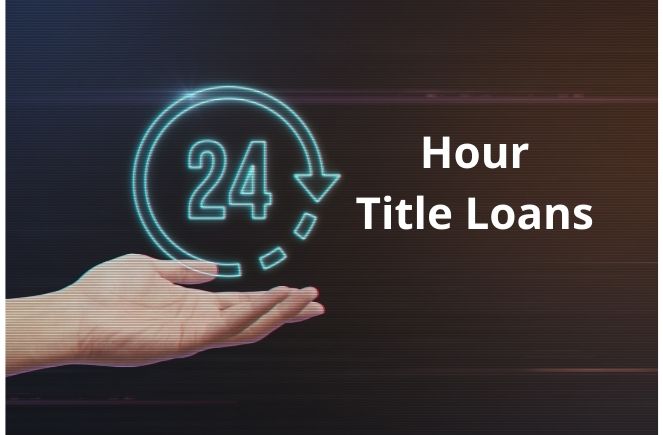 GoTitleLend is a nationwide company that's committed to getting you the best title loan rates and terms. We believe everyone deserves access to credit and we want your loan to fund quickly!